With Volkswagen We Connect ⁠ your vehicle can now be even more digital. A wide range of services can conveniently be accessed through the Transporter 6.1, new Caddy Cargo and Crafter via your smartphone and the We Connect1 App. The app connects your smartphone to the vehicle with an integrated eSIM card. From model year 2021, the majority of new Volkswagen Commercial Vehicles are We Connect1-ready for you.
The We Connect1 package includes various vehicle reports, breakdown call and useful tools for service planning ensuring your vehicle's information is always up to date.  The parking position finder is also included and helps to locate your vehicle. In the event of an accident, should the driver activate the 'eCall' button or the airbags are deployed triggering the 'eCall' service,  the Emergency services will be contacted directly. Vital information such as the condition and location of the vehicle will be sent to emergency response units.
Vehicle check whenever and wherever you want
We Connect1 uses your vehicle's data to help you stay on top of your driving habits and vehicle's health. Check all-important vehicle information from almost anywhere and see a clear overview of your data including remaining range and current mileage on your smartphone. Before you set off, Vehicle Health Report lists any warning messages, upcoming services and displays the status of the driver assistance systems. Use We Connect1 to analyse your driving habits using your vehicle's data. By making small changes to how you drive you could decrease your average fuel consumption and reduce your costs.
Many other services can be added with the We Connect Plus⁠ package , including enhanced safety features and improved comfort features. Use We Connect to plan your route from your sofa, receive traffic jam alerts, and get directions to the nearest petrol station. 
Get there feeling even more relaxed
Find out traffic information almost in real time and rely on the best possible route. Plan your route from your sofa, receive traffic jam alerts, and get directions to the nearest petrol station. We Connect1 will also tell you where the nearest car park is and will let you know its opening hours.
We Connect1 app download
Simply download the We Connect1 app for your smartphone operating system an connect it to your Volkswagen.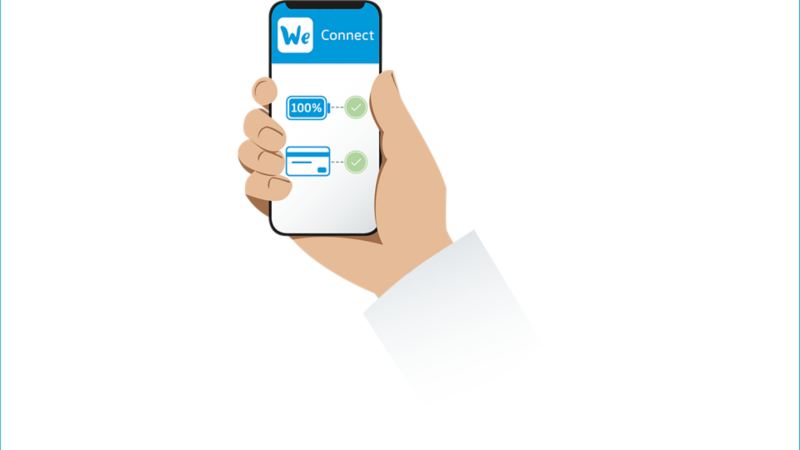 How to set up and use We Connect
Setting up We Connect is quick and easy. Simply follow the four steps listed below or follow our step by step video here
Download the We Connect app
Download the We Connect app to your smartphone for free via the App Store for iOS devices or the Play Store for Android. 
Log into to the app using your Volkswagen Commercial Vehicles ID. If you haven't set up an ID yet, the app will guide you through each step of the registration process.
Add your 

Volkswagen

Commercial Vehicle
Use the vehicle identification number (VIN) to add your Volkswagen Commercial Vehicle. Your VIN can be found in your registration papers and behind the windscreen of your vehicle.
To complete activation, follow the instructions in the app. The app includes detailed instructions for each activation option:
- Activation with the app and ignition keys
- Activation in the vehicle
- Activation in the app via activation code
- Activation via the vehicle's infotainment system
| | | | We Connect Plus Compatible | We Upgrade functions Availability  |
| --- | --- | --- | --- | --- |
| | Radio "Composition" with 8.25" (20.96cm) colour touch screen | | | |
| | Radio "Composition" with 8.25" (20.96cm) colour touch screen | | | |
| | Radio "Composition" with 8.25" (20.96cm) colour touch screen | | | |
| | Radio "Composition Colour" with 6.5" (16.51 cm) colour touch screen | | | |
| | Radio "Composition Colour" with 6.5" (16.51 cm) colour touch screen | | | |
| | Radio "Ready 2 Discover" with 8-Inch (20.3cm) touch screen with 4 speakers | | | |
| | Radio "Composition Colour" with 6.5" (16.51 cm) colour touch screen | | | |
| | Radio "Composition Audio" with thin film transistor LCD | | | |
| | Radio "Composition Colour" with 6.5" (16.51 cm) colour touch screen | | | |
| | Radio "Composition Colour" with 6.5" (16.51 cm) colour touch screen | | | |
| | Radio "Ready 2 Discover" with 8-Inch (20.3cm) touch screen with 4 speakers | | | |